Looking for the best catering in Denver?
SubCulture is proud to offer multiple catering options to the Denver area for events such as office lunches, lunch catering, and more! From brown bag lunches, to individual subs, to catering sandwich trays…we've got you covered. All of our subs are made in-house and we offer vegetarian catering options, vegan catering options, and gluten free catering options as well!
All of our catering options include: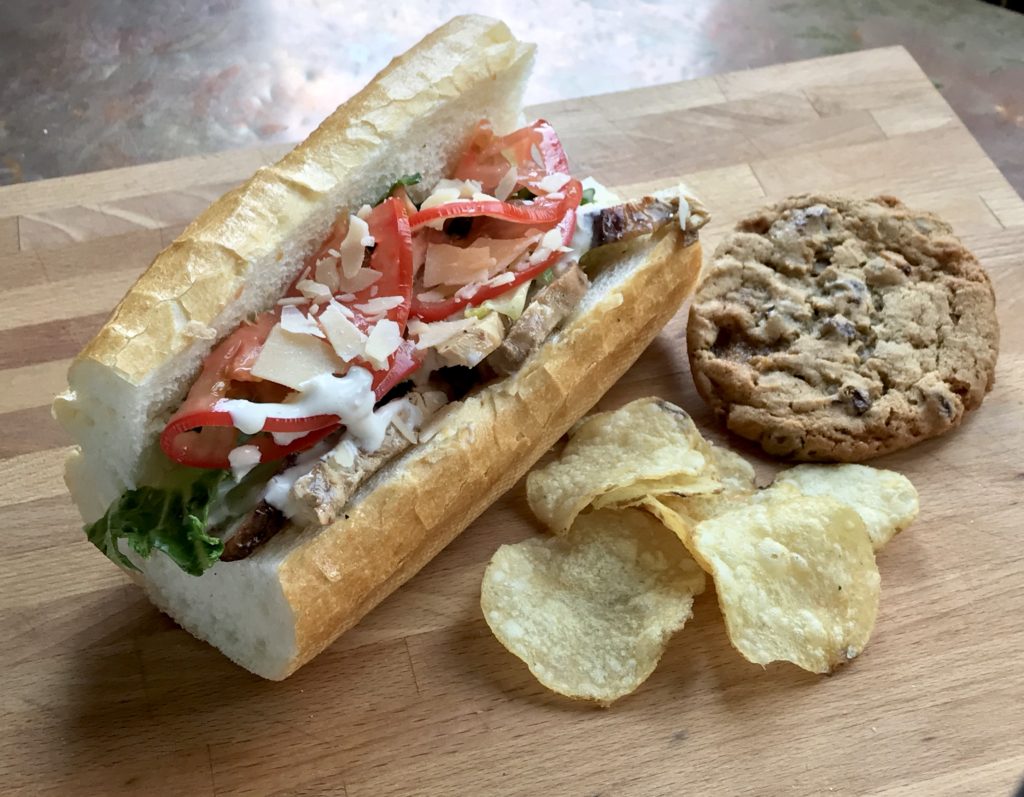 Learn more about our deli trays, bag lunches, and catering options below. If you are ready to get started, click here to view our catering menu or call us direct at 303-420-3232.
Simply Subs  |  Customize Your Catered Lunch
The most customizable option, and perfect for an office lunch, each person simply chooses their favorite sub off our menu! For $7.70* per person for a 7 inch sub, your office lunch or party can customize their favorite sandwich and this includes vegan and vegetarian options. Need a few recommendations?
Our staff recommends:
Albiene: beef, BBQ, slaw, pickle
Yaya: turkey, avocado, swiss, mayo, tomato, lettuce
Mile High Turkey: turkey, green chili, cream cheese, grilled onion, lettuce, tomato
If you are looking for more than just a sub…our next catering option is for you.
Bag Lunches | An Office Catering Favorite
Our brown bag lunches are a crowd favorite and include your choice of any sub off our menu plus Boulder Natural Chips and a chocolate or caramel cookie. For $10.25* a person, brown bag lunches are one of our most popular Denver catering options for offices, events, and parties.
Our staff recommends:
Italian: salami, capicola, provolone, olives, onion, lettuce, tomato, Italian dressing
Monte Cubano:  ham, turkey, pickle, mustard, swiss, garlic mojo
Gaucho:  roast beef, ranch, grilled onion, bacon, pepper jack, lettuce, tomato, mayo
For those who need to feed a large crowd, our third catering option is the perfect choice.
Deli Trays | Feed All Of Denver
Have a large office crew to feed? Our deli trays were created to handle the hungriest of crowds. These sub trays include 20 mini subs and can feed up to 10 people. Popular for Denver office lunches and larger catering orders, please contact us at 303-420-3232 or email thisissubculture@gmail.com  direct to place your deli tray order.
Salad Catering
For a healthy office lunch option, our salads are all made in-house including our homemade dressings. Built to serve around 10-12 people, SubCulture offers 8 different salads for catering including the standard favorites. Need help deciding on a salad catering option?
Our Staff Recommends 
Caesar:  romaine, tomato, parmesan, caesar dressing
Sub Cobber: romaine, chicken, bacon, avocado, onion, tomato, carrot, mozzarella
Giro: salami, capicola, romaine, provolone, olives, tomatoes, cherry peppers, onions
Hungry Yet? Get started With SubCulture Catering!
After reading about food…we understand if you are hungry! Simply click here to email us or call us direct at 303-420-3232 to get started with your Denver catering today!
*Note: Prices may vary depending on sub options such as gluten free bread. Thanks for understanding!