SubCulture has focused on creating a unique experience for our customers since we were first established by Mike and Boel. From the hand selected ingredients, to our location in what used to be the Penn Garage in Capitol Hill,  SubCulture has provided years of delicious subs to the Denver area.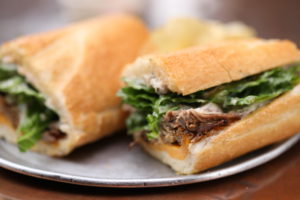 The People Behind The Subs
After moving to Colorado in 2007, Mike and Boel decided to create a chef-driven restaurant with a bold menu that brings fresh ingredients and daily baked bread to the forefront of the Denver food arena.
Boel was raised in Sweden and was classically trained in French cooking. She soon caught the travel bug and spent ten years in the London food scene working for different restaurants including Michelin star rated locations. After meeting Mike who was a longtime restaurateur, the couple moved to Colorado and bought the space that would become SubCulture.
The Building
Set in the old Penn Garage building, this historical location serviced cars for over 70 years including the storage of Molly Brown's own Fritchle 100-mile Electric. The building was transformed into lofts in 1997 and eventually opened up the downstairs for commercial opportunity.
After stumbling upon the location, Mike and Boel decided to purchase this piece of history and began to lay the foundation of what would eventually become SubCulture.
The Food
By combining their culinary and restauranteur backgrounds, Mike and Boel created the extensive SubCulture menu by experimenting with flavors, sauces, and breads in their own kitchen. To this day, all of SubCulture's ingredients are cut fresh daily, the bread is baked daily, and the restaurant operates at 120% offset by electric solar use.
With over 50 menus choices ranging from slow braised beef the classic Italian deli, SubCulture continues to bring unique flavors to the neighborhoods surrounding Capitol Hill.
We look forward to seeing you in the restaraunt and serving up delicious subs to the Denver, Colorado area!
Sources: